YOUR BACK-UP PLAN IS HERE
GliadinX® is the most effective dietary supplement neutralizing gliadin, the damaging component of gluten. It is very difficult and sometimes impossible to adhere to a strict gluten-free diet without cross contamination or accidental ingestion of gluten, resulting in unintentional exposure to gluten.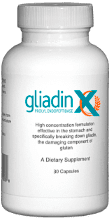 GliadinX®
Each capsule contains 335 mg Prolyl Endopeptidase (Aspergillus Niger).

Other ingredients include magnesium stearate, maltodextrin (from potato) and citric acid.
Manufactured in a GMP certified facility, Kosher OU Certified, Vegetarian
Order securely with a PayPal account or through PayPal credit card processing.
90 Capsules $ 47.90 (US) plus shipping
30 Capsules $ 22.90 (US) plus shipping